A Local Surf Contest Celebrating Our Culture in the LBI Region...

"We created the Clam Jam to bring our community together. We relish in the fact that new friendships are forged every year. The Jam is always a top day of the year for so many people.
We shuffle our schedules, track swells, and anxiously await the most opportune day to hold this event. We realize that plans change so much as the forecasts do, so if you are committed, start apologizing to your significant other now... because we wait until it's really good!" - Jetty.com
Clam Jam Selection Night:
The names have been scribed & the clams are ready to be pulled. Join us at The Old Causeway Steak & Oyster House tomorrow, October 6 for the 11th Annual Clam Jam Selection Night, where the 96 contestants will be randomly paired with their partners for this year's contest. All surfers are encouraged to come out to meet your partner, strategize, and get amped on the 11th Annual Celebration of the LBI Region's surf culture. We'll see you at 7pm!
The Jetty Clam Jam is postponed. The next potential dates for the competition are October 14 & 15.

All Information courtesy of Jetty.com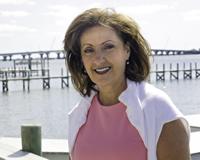 I grew up in Bergen County, New Jersey across the Hudson River from New York City. My husband, Dennis, and I raised our two children there. As soon as the kids were finished with school, Dennis and I ....